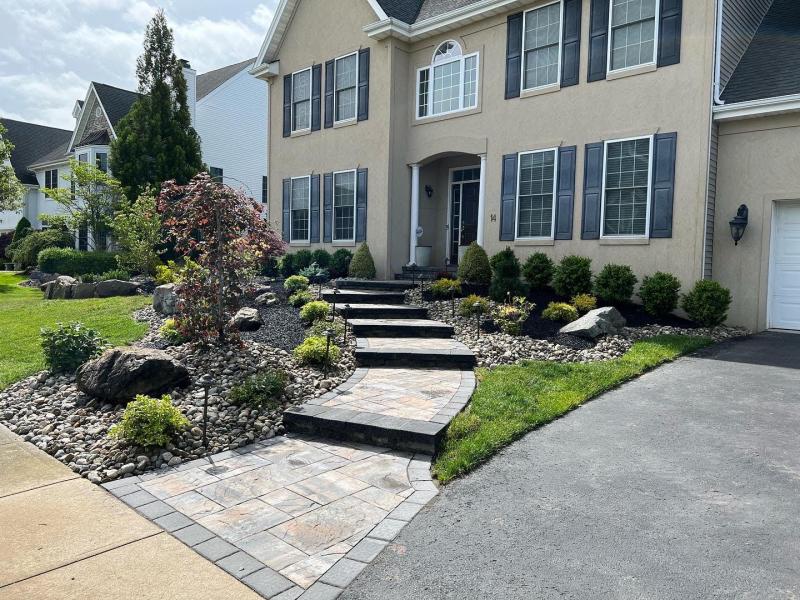 David's Lawn and Landscape Design delivers beautiful designs, high quality landscaping solutions, and affordable prices. Our professional crews have the equipment to get your landscaping projects done right and will help you through each step of the process to ensure you get the look you want. We have experience with a variety of materials so we can help you make your landscaping dreams come true.
Magnificent Landscapes at Affordable Prices
"Thank you so much for the beautiful landscape design in front of my home. You truly have a gifted talent to be proud of.
I asked for an "Elegant" look and you did that 110%! I love the choice of plants.
Everyone who walks by says it is so beautiful. One person even stopped by to ring my doorbell the night it was done to tell me how much she liked it. The team putting it together in one day, did an outstanding job. It was a pleasure to work with them."
Joan B., Highstown, NJ - July 2017
"I don't usually write reviews online but was so impressed with David's Lawn & Landscape Design that I decided to write this review. "At our initial meeting, David and I discussed both the hardscaping and landscaping design in great detail. He listened to my likes and dislikes and at our next meeting had incorporated all my requests into a lovely design.
His office is extremely responsive and pleasant when answering your telephone calls. David's field crews were also courteous, neat, and efficient during the entire project.
I love the finished product and would recommend his landscaping company without hesitation. It was one of the most pleasant experiences I have had with a contracting company in a long time and plan to use David's company for all my future landscaping needs."
Judith M., Monroe Twp. - October 2017
"Your patience and sincere concern for others (although it is only a lawn) make you very special people!"
B. Feigenbaum
"I was completely satisfied with David's design of my Patio and the front walk and sitting area. His landscaping design and choice of shrubs are perfect. I have people complimenting the work I had done. David's follow-up and maintenance are prompt and through. I'll keep using David for whatever maintenance needs to be done. He has delivered everything he promised and more. He's reliable and most of all He's there when you want him and stands by his word."
Very Satisfied, Barbara Steng
"Before too much time passed by, Deborah and I wanted you to know how pleased we are with the work done on our outside property thus far. Tom was extremely professional and helpful organizing the landscaping for us, and the two gentlemen who showed up precisely on time this past Saturday (20) morning to do the actual work were consistently courteous, attentive, efficient and totally (again) professional.
The work was most exemplary and we couldn't be happier with these initial results. We now of course will look forward to a continued close relationship with you and your excellent staff in the months ahead and will be in contact for the regular necessary follow-up services and whatever additional future enhancements we think of or you can recommend. (We might, in fact, want to discuss lighting designs with you after this coming winter season.)"
Most Appreciatively, BG